Xtampza® ER (oxycodone) maintained its Xtended‑release PK profile when crushed—Reformulated OxyContin® did not
The FDA has established categories of premarket study for demonstrating abuse deterrence. Category 1 are lab-based manipulation and extraction studies, Category 2 are pharmacokinetic studies to compare profiles of manipulated and intact product, and Category 3 are human abuse potential clinical studies, assessing the impact of potential abuse-deterrent properties on Drug Liking and Take Drug Again measurements.1
Comparative pharmacokinetic data validated in another Category 2 single‑dose, active-controlled study.2-4
The findings above do not indicate that Xtampza ER can entirely prevent abuse via oral administration; abuse by the oral route is still possible.
In a 2015 randomized, open-label, active-controlled, five-treatment crossover study, Gudin et al compared the PK of crushed oxycodone IR to Xtampza ER (crushed and intact) and reformulated OxyContin (crushed and intact) taken orally in 42 subjects3
Relative to oxycodone immediate-release (IR) and crushed reformulated OxyContin (oxycodone hydrochloride) extended-release tablets, the Cmax for all Xtampza ER treatments was lower and the Tmax longer, consistent with an extended-release profile2,3
Comparison of crushed and intact dosage forms from comparative PK study.3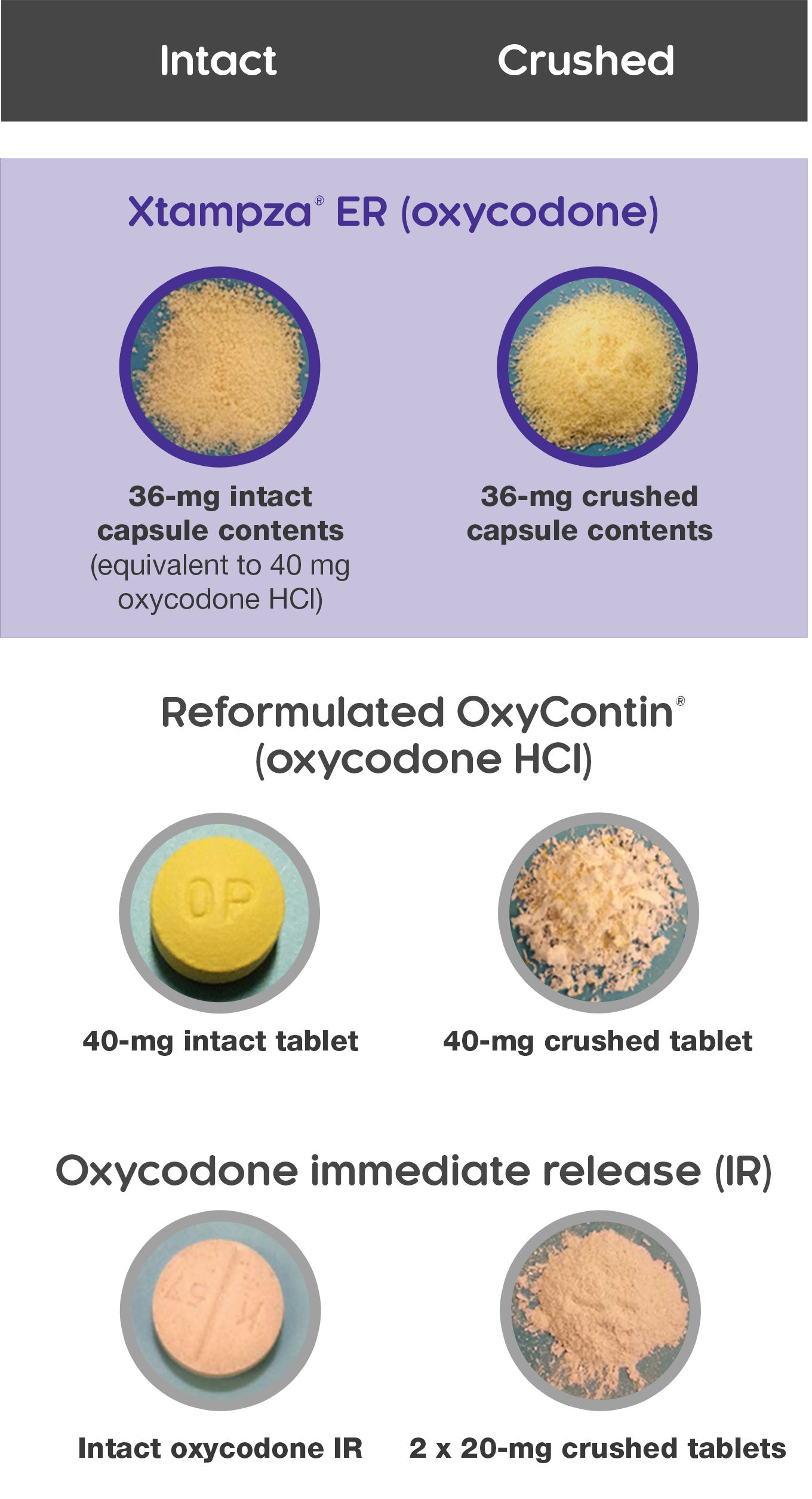 Crushed product was prepared using the most effective method of particle size reduction identified in previously conducted lab-based studies2
Xtampza ER and oxycodone IR were prepared using the same method. However, crushed OxyContin was prepared using a different crushing method3
The impact of the oral PK studies on misuse, abuse, and diversion of Xtampza ER has yet to be determined. Additional data, including epidemiological data, when available, may provide further information on the impact of the current formulation of Xtampza ER on the abuse liability of the drug.
See human abuse potential studies